About Nebraska United Methodist Foundation
About Nebraska United Methodist Foundation
The Nebraska United Methodist Foundation is honored to be able to provide many services and financial tools to Nebraska churches, ministries and members of the Great Plains Conference.  We would be honored to become 'Your Partner in Ministry.'  
All clergy are invited to attend this excellent event! Information below: Topic: The Suffering of...
Read More >
"Top Ten Mistakes in Estate Planning & How to Avoid Them" presented by Andrew Loudon Thursday,...
Read More >
The Nebraska United Methodist Foundation is announcing a 2nd round of COVID-19 Emergency Grants to...
Read More >
Meet the team behind the Foundation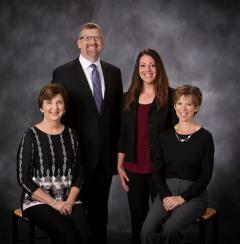 The Nebraska United Methodist Foundation feels blessed to serve you and your church. As your partner in ministry, we want you to know who you are working with. From left to right in the photo, you will see Marci Logsdon, Director of Finance; Rev. Dr. F. Matt Fowler, Director of Stewardship; Jackie Urkoski, Executive Director; and Christy Bousquet, Administrative Assistant. Please reach out to us for any resources or tools you may need and thank you for allowing us to serve you.
In 2006, Doug Gahn found himself in a moment that was powerful, filled with humility and assurance...
Read More >
5 miles south of York, 48 miles east of Grand Island, and 55 miles west of Lincoln with a...
Read More >