NUMF Welcomes Kristine Roberts to the Team
NUMF Welcomes Kristine Roberts to the Team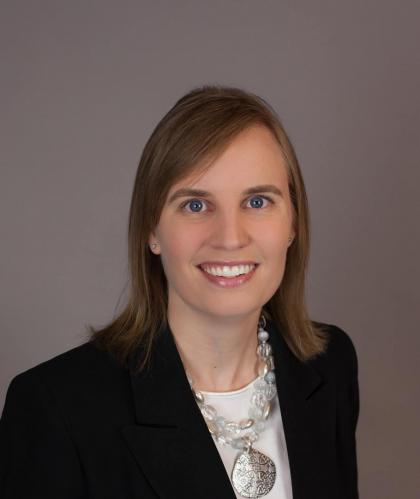 The Nebraska United Methodist Foundation is pleased to welcome Kristine Roberts to the team as Director of Stewardship. Kristine is originally from Valley, NE where she attended Valley UMC. She attended Midland Lutheran College in Fremont, NE on a golf scholarship, where she studied Business Administration with concentrations in Accounting and Marketing, graduating cum laude. She continued her education at the University of Nebraska - College of Law where she focused on transactional law and alternative dispute resolution, graduating in 2010. After graduation, she worked for Wiseman Law Office in Fremont for four years until she opened her own law practice as a solo practitioner with specialties in wills/powers of attorney, juvenile law, and mediation. She also previously served as Executive Director of the Nebraska Mediation Association.
Kristine is very involved in her community and puts a priority on service to others. She enjoyed going to Camp Fontanelle as a child, and has dedicated volunteer hours to the Camp as an adult. She has served on the Camp Fontanelle Site Council for many years, and currently serves as Development Team Leader, in addition to being Chair of the Camp Fontanelle Site Council. Through this role, she also served on the Great Plains UMC Camps, Inc. Board, which oversees all five UMC Camps in Nebraska and Kansas. She has also served many other organizations including the Rebuilding Together – Platte Valley East Board, the Lady Law Dodgers, the Dodge County Bar Association, and the NUMF Board. Kristine has received recognition in her community, including Outstanding Young Alumni Award from Midland University in 2018. In addition to the wealth of knowledge she has obtained through her education and career path, Kristine has also been trained by Horizons Stewardship in the areas of fundraising, donor development, and capital campaigns.
Kristine is an active member of Elkhorn Hills UMC and enjoys spending time with her husband, Travis, and their son Evan, her parents, and her brother and his family. She enjoys golfing, reading, networking, and volunteering.
"I am thrilled for the opportunity to connect with clergy and laity across Nebraska and am looking forward to visiting with them about the many resources the Foundation has to offer," Kristine said.
Executive Director, Jackie Urkoski, adds: "We are so pleased to have Kristine join the staff. She will, without a doubt, help churches, camps and many other ministries sustain and grow the good work they are doing. And I am certain that with her knowledge and expertise, she will help many people leave a lasting impact on their church."
If you would like to invite Kristine to your church, learn more about how she can help you leave a legacy, or would just like to welcome her to the ministry of the Foundation, please contact her at 402-323-8842 or by email at kroberts [at] numf.org.