NUMF Expanding Staff and Outreach
NUMF Expanding Staff and Outreach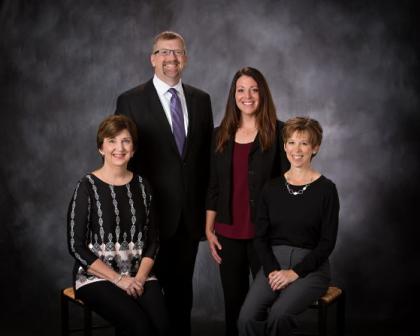 The Foundation is pleased to announce the addition of two new members to the current NUMF staff.
Christy Bousquet joins the Foundation as Administrative Assistant. Christy has an Associate's Degree in the Executive Secretarial program from SCC. She spent the majority of her career working as the Executive Secretary for a president of a pharmaceutical company. She then spent time staying home with her children and volunteering at church and school events. In God's great timing, Christy was considering rejoining the work force at the same time our needs for someone like her arose at the Foundation. Christy and her husband, Kevin, have been married for 22 years, and they have four daughters, ages 18, 16, 14 and 11. Christy has proven to be a fast learner, an extraordinarily quick and efficient worker, and very resourceful. She works with us in a part-time status at 20 hours a week.
Rev. Dr. F. Matt Fowler has accepted the full-time position as Director of Stewardship. Matt is an Ordained Elder in the United Methodist Church and has a Doctor of Ministry with a focus on Financial Stewardship from Perkins School of Theology. Matt has experienced the Foundation in many capacities, both as a member of the Board of Directors and as a pastor that has used our services. Matt and his wife, Dr. Margo Anderson-Fowler, have been married 11 years and have 4 children. Matt has served as a pastor for 23 years in all sizes of churches, and in many areas of the state and is looking forward to serving the Church in this new way. Matt will be supporting United Methodists and their churches in many ways, but in particular, in helping them be good stewards of the resources to which they have been entrusted.

The Foundation's outreach and impact, along with its programs, continue to grow. Our assets grew to over $42 million in 2018. This number represents the growth and strength in our partnerships with churches and people like you. Last year alone, we distributed nearly $70,000 in grants to new and growing ministries across the state, $30,000 in scholarships to seminary students dedicated to serving in the Great Plains Conference, and $50,000 to help two new churches start their ministry. In addition to this, the distributions made back to churches and ministries were at an all-time high of over $3 million.

In this 55th year of operation, the Foundation is looking forward to continuing with the many services you have come to know and appreciate, while expanding to serve you and your church in many new ways as well. We are looking forward to these new opportunities and connections.